The Leading Provider of Strategic and Transaction Advisory Services to the Aerospace, Defense and Government Sectors
CSP completed an active year in 2013, advising on more than 30 transactions, including announced deals with an aggregate enterprise value of approximately $4 billion.
CACI International acquired Six3 Systems, a premier provider of highly specialized services in the areas of cybersecurity, intelligence, surveillance, and reconnaissance; and intelligence operations.
Aurora Capital acquired National Technical Systems, the largest independent provider of testing and certification services to the aerospace and defense markets.
Excelitas Technologies, a portfolio company of Veritas Capital, acquired Qioptiq, a major UK-based supplier of photonic systems and technology.
Secure Communications, a portfolio company of Vance Street Capital, acquired Tactical Micro, a custom developer of military training range instrumentation.
Madison Dearborn Partners and CoVant announced their intent to acquire LGS Innovations, a leading provider of secure networking, satellite communications, VoIP, optical routers and other solutions for US national security, defense, and advanced research customers.
Carlyle Group portfolio company Dynamic Precision Group acquired aircraft engine and structural component manufacturer Paradigm Precision, and selected component fabrication and machining facilities from Unison Engine Components, a subsidiary of GE Aviation.
Carlyle Group portfolio company Chromalloy acquired Trac Group, a tier 1 producer of high- and low-pressure complex turbine engine components.
Permaswage, formerly a portfolio company of Bridgepoint Capital, and a leading designer and manufacturer of aerospace fluid fittings and related installation tooling, was acquired by Precision Castparts Corp.
Towerbrook Capital acquired AIM Aviation, a leading global provider of premium aircraft cabin interior monuments and galley structures to airlines and aircraft OEMs.
Reinhold Industries, formerly a portfolio company of The Jordan Company and a leading provider of aircraft composite seatbacks and related components, was acquired by Heico Corp.
In 2014, to date, CSP is pleased to announce three recent transactions: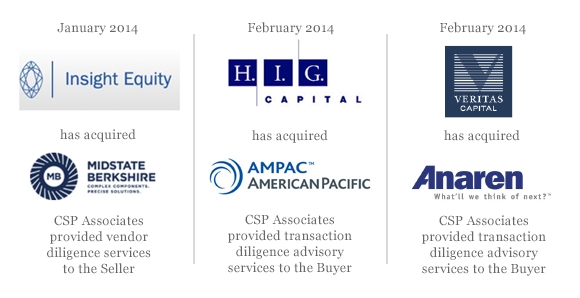 RECENT TRANSACTIONS
CSP advised Precision Holding LLC in the sale of Midstate Berkshire, a leading provider of complex precision machined components and assemblies for aerospace and defense, oil & gas, and power generation applications, to Insight Equity.
CSP advised H.I.G. Capital in its acquisition of American Pacific Corp., the leading provider of propellant chemicals used in solid rocket motors for a wide variety of space launch, tactical and strategic missile and ordnance programs.
CSP advised Veritas Capital in its acquisition of Anaren, Inc., a premier designer, developer and manufacturer of complex microwave components and subsystems for defense electronics, satellite communications, and wireless applications.
Founded in 1983, CSP is the recognized standard for business diligence advisory services in the aerospace, defense, and government sectors, and is a leading provider of strategic advisory services to corporate clients in our served markets. Over the past 25 years, the firm has supported more than 150 U.S. and international private equity and corporate clients in nearly 700 merger and acquisition transactions. CSP Equity Partners, a private investment affiliate of CSP Associates, is an investor in approximately 80 companies across our served markets. For more information, please visit www.cspassociates.com