CSP is pleased to announce five recent transaction advisory engagements involving leading providers of aerospace, defense, and government IT hardware and services. With a cumulative enterprise value of more than $2.5 billion, these transactions illustrate continued interest by private equity and strategic buyers in high-quality, market-leading businesses across our served markets.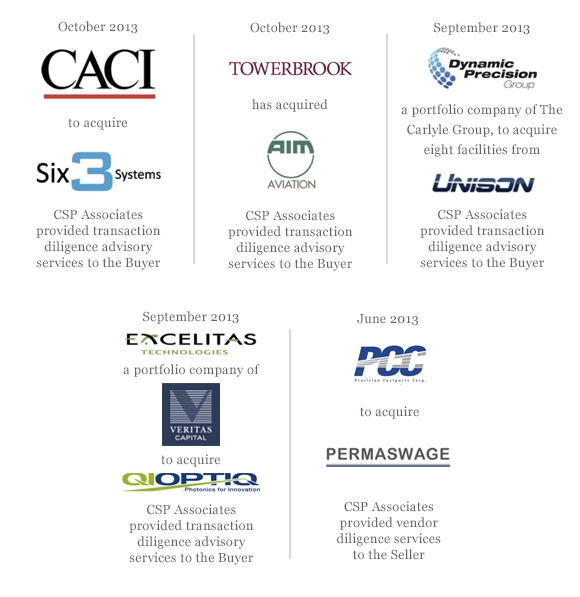 RECENT TRANSACTIONS
CSP provided strategic and transaction diligence support to CACI International in its pending acquisition of Six3 Systems, Inc., a premier provider of highly specialized services to the national security community in the areas of cyber and signals intelligence; intelligence, surveillance, and reconnaissance; and intelligence operations. The transaction will expand CACI's position in high-growth cyber-security markets and build on the firm's significant capabilities in important C4ISR (command, control, communications, computers, intelligence, surveillance, and reconnaissance) and Intelligence market areas.
CSP advised Towerbrook Capital Partners in its acquisition of AIM Aviation, a leading UK-based provider of premium aircraft cabin interior monuments, galley structures, and related interior products to global airlines and aircraft OEMs.
CSP advised The Carlyle Group and its portfolio company Dynamic Precision Group in DPG's pending acquisition of eight aircraft and engine component fabrication and machining facilities from Unison Engine Components, a subsidiary of GE Aviation. DPG is a global leader in the manufacture of complex machined and fabricated assemblies for the aerospace, defense and power generation markets. CSP previously advised Carlyle in its acquisitions of TurboCombuster Technology in 2011 and Paradigm Precision in 2013, which comprise DPG.
CSP advised Excelitas Technologies, a portfolio company of Veritas Capital, in its pending acquisition of Qioptiq, a leading UK-based provider of photonic systems and technology for defense, space, and aviation applications. The planned combination of Excelitas and Qioptiq will create a world leader in optoelectronics components and subsystems, and extends CSP's long history of transaction advisory support to Veritas Capital.
CSP provided vendor diligence support to Permaswage SAS, a portfolio company of Bridgepoint Capital, in the announced sale of Permaswage to Precision Castparts Corp. Permaswage is a leading designer and manufacturer of aerospace fluid fittings and related installation tooling to aircraft OEMs and major subsystem providers.
MANAGEMENT UPDATE
In June, following a 28-year career with CSP, Senior Managing Director Peter Malone transitioned to an advisory role with the firm. Senior Managing Directors Brad Meslin and Mark Oderman, Managing Directors Tim Gregor and Marc Vaucher, and the entire CSP team look forward to continuing to benefit from Peter's advice and counsel, and wish him well in his future endeavors.
CSP is the recognized standard for business diligence advisory services in the aerospace, defense, and government sectors, and is a leading provider of strategic advisory services to corporate clients in our served markets. In 2013, to date, CSP has been engaged to support some 30 industry transactions, while over the past 25 years, CSP has been engaged in nearly 700 transactions by more than 125 corporate and financial buyers and sellers of aerospace, defense and government businesses. CSP Equity Partners, a CSP affiliate, is a co-investor in approximately 80 transactions in our served markets. To learn more about how CSP can assist you with your next transaction or strategic assessment, please contact us or visit www.cspassociates.com.