CSP is pleased to announce four recent transaction advisory engagements involving leading providers of aerospace, defense, and federal IT hardware and services. These deals capped an active year of diligence advisory support by CSP, in which the firm advised on more than 30 transactions, including thirteen announced deals with a cumulative enterprise value of more than $4 billion.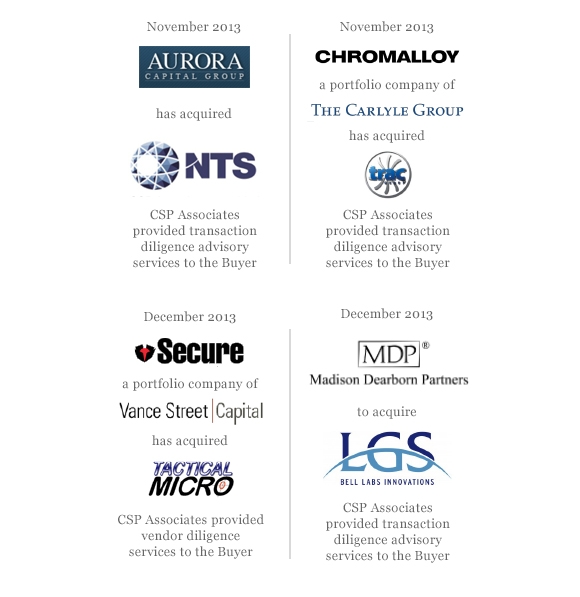 RECENT TRANSACTIONS
CSP provided strategic and transaction diligence advisory support to Aurora Capital Group in its acquisition of National Technical Systems, Inc. (formerly NASDAQ: NTSC). NTS is a leading independent provider of testing and engineering services to the aerospace, defense, telecommunications, automotive, energy and high technology markets. Operating one of the largest networks of test laboratories in North America, NTS supports a diverse mix of companies and government-sponsored research and testing entities, providing full product life-cycle support, including design engineering, compliance, testing, certification, quality registration and program management solutions. The NTS transaction extends a decade-long relationship between CSP and Aurora Capital, a leading middle market private investment firm.
CSP advised Chromalloy, a portfolio company of the Carlyle Group, in its acquisition of Trac Group, a tier-one component supplier to the aerospace and industrial gas turbine industries. UK-based Trac Group provides design, engineering and manufacturing of high- and low-pressure complex turbine components, including blades, segments and vanes for turbine engines, and extends Chromalloy's support to the new engine supply chain. In 2007, CSP advised Carlyle in its acquisition of Chromalloy parent, Sequa Corp.
CSP advised Vance Street Capital portfolio company Secure Communications in its acquisition of Tactical Micro, an engineering systems integration company specializing in custom development and installation of range instrumentation and audio/video broadcasting and recording systems for use on military tactical vehicles, training ranges, and metropolitan rapid transit systems. CSP has supported Vance Street in numerous aerospace and defense acquisitions since the Los Angeles-based private equity firm was established in 2007.
CSP provided commercial diligence support to Madison Dearborn Partners and CoVant in their pending acquisition of LGS Innovations from Alcatel-Lucent. LGS Innovations provides secure networking, satellite communications, VoIP, optical routers and other solutions for the US national security, defense, and advanced research communities. Madison Dearborn is a leading private equity firm that invests across a broad spectrum of industries, including business and government services, while CoVant is a holding company focused on acquiring and growing companies in the federal technology solutions marketplace.
CSP is the recognized standard for business diligence advisory services in the aerospace, defense, and government sectors, and is a leading provider of strategic advisory services to corporate clients in our served markets. Since 1990, the firm has supported more than 150 U.S. and international private equity and corporate clients in nearly 700 merger and acquisition transactions. CSP Equity Partners, a CSP affiliate, is a co-investor in approximately 80 companies across our served markets. To learn more about how CSP can support your next transaction or strategic assessment, please contact us or visit www.cspassociates.com.