2015 saw increased transaction activity in the aerospace, defense and government (ADG) markets with more than 300 announced deals. The commercial aerospace sector experienced another year of strong M&A volume, accounting for close to half of all ADG deals, while the number of defense sector transactions jumped by nearly 50% on an improving U.S. defense budget outlook. The government services sector saw a modest decline in deal activity, but still accounted for nearly one-quarter of all industry transactions.
Against this backdrop, CSP experienced a very active year, providing diligence advisory services in approximately 50 U.S. and European transactions with an aggregate enterprise value of nearly $15 billion, on behalf of a growing number of U.S. and international private equity and corporate clients. Representative announced transactions illustrate the broad range of CSP's support across the markets we serve.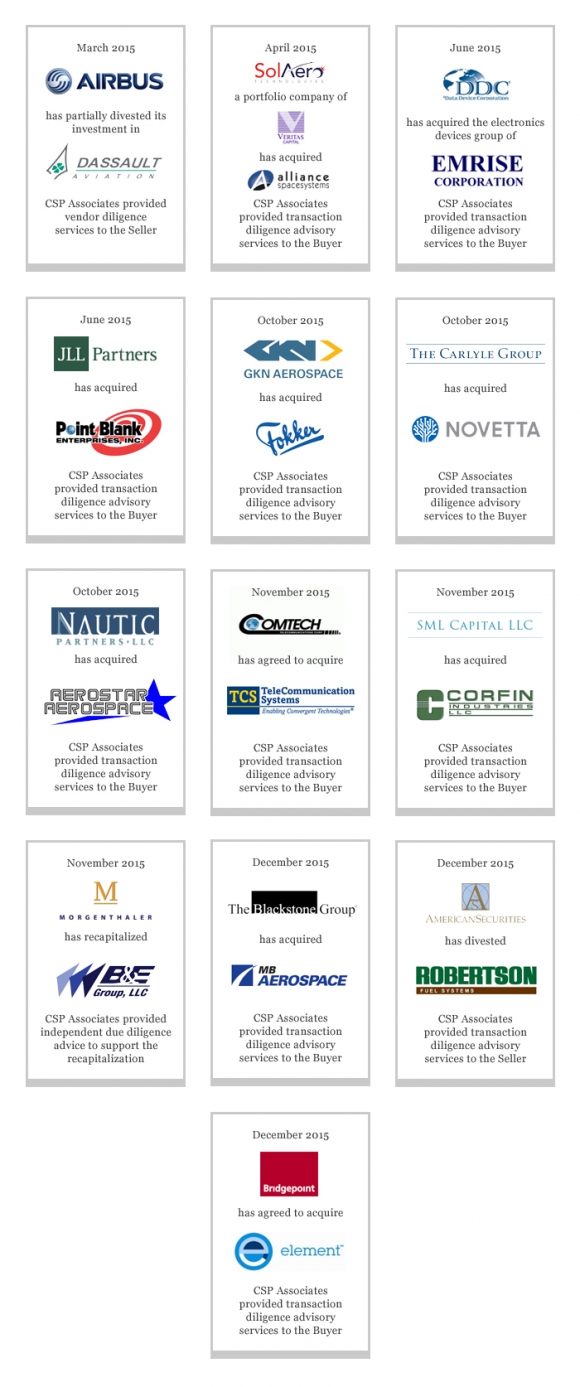 CSP is the leading global provider of business diligence transaction advisory services in the aerospace, defense, satellite telecommunications, and government services sectors, and is a strategic advisor to some of the largest U.S. and European corporate players in our served markets. Since 1990, the firm has supported approximately 200 U.S. and international private equity and corporate clients in nearly 800 merger and acquisition transactions. CSP developed, and continues to innovate the diligence model used by global investors to assess and value acquisition candidates in our served markets. Over the past 15 years, CSP Equity Partners, a CSP affiliate, has co-invested in more than 80 aerospace, defense, and government services companies. To learn more about how CSP can support your next transaction or strategic assessment, please contact us or visit www.cspassociates.com.